We arrived in Delhi in the late evening their time and, as soon as we got outside the plane, we smelled India. It's an unmistakable odor of spices, incense and pollution. This was our first visit to India and we had no idea what was ahead of us. After a long wait for visa control and luggage pick-up, we emerged into a surreal world of yellow fog, a seemingly enclosed space with blurred streetlights and walking shadows. We seemed to have descended into inferno.
We were traveling with our friends, Jean and Danièle Porta, and we got two cabs for the four of us to our hotel. As John and I arrived Jean was very worried that we might not end up at the same hotel. We climbed up three flights of stairs on a narrow, steep staircase, following a couple of strong young men who carried our luggage on their backs. We were asked if we wanted sheets and when we, somewhat surprised, said Yes, of course, we got one sheet for each room. We asked for another sheet, which seemed to surprise the man who ran the hotel and had to rummage around in a closet before he found more sheets.
Breakfast was rudimentary and it is doubtful whether it could actually deserve the name of breakfast. John had found the hotel, the Blue Hotel on Connaught Place, in Lonely Planet. It was cheap. It seemed amazing how the Blue Hotel had found its way into Lonely Planet, but the next year it was no more there. There happened to be a man who was listening to our complaints and it turned out that he was from a tourist agency. In the tourist agency they arranged for a visit of Delhi by car, which turned out to be very interesting.
On this tour of Delhi we visited the old Muslim quartier at Nizzamudin where we had an excellent dinner at Karim's restaurant. It would be a while before we had another meal that good!
We then visited Humayun's tomb, approximately across the street, and drove around India Gate and the Indian government buildings, originally built by the British colonizers. I think we even saw the Grand Mosque, the Jama Masjid on this first tour
of Delhi.
This was the beginning of a first and a most interesting three-week visit to India in 2006.
The following morning we flew to Varanasi, or Benarès as our French friends call it, where we were met at the old airport by Jean-Max and Tulsi. We were welcomed according to Indian tradition with the orange flower garlands ("marigolds") and, after a little tour to visit a little temple that was being inaugurated in the village where one of Tulsi's people lived, we were taken on the long ride into Varanasi.
Our hotel was "Temple on Ganges" which is right next to the southern end of the ghats at Assi Ghat.
Jean-Max had prepared a wonderful introduction to Varanasi for us, on our first morning. Before breakfast, so as not to miss the rising sun over the Ganga, we went down to Assi Ghat. He was wafting for us with a boat and a boatman, to take us up to Dashashwamedh Ghat. This ghat leads to the center of Varanasi, past a restaurant, where John and I had lunch several times in the coming years, and to what is called "Godowlia crossing" where you get the impression that the movement and the noise never stop.
The five of us settled in the boat and the young man rowed us downstream, which takes you north in this distorted part of the Ganga. The way up in the boat towards Dashashwamedh Ghat with the rising sun on our right had been wonderfully exotic; the buildings above the ghats bathed in the soft morning light. After walking up the steps and taking a look at the market, we walked back on the ghats all five of us, and of course John and I took a lot of pictures.
Breakfast afterwards was on the roof of the hotel, and we had a great view of the Ganga and of Varanasi rooftops. On a roof near by a young man took a shower by pouring a bucket of water over his head. What a wonderful surprise Jean-Max had there, and what a splendid first morning on the ghats.
There were, here and there on the ghats, the never-ending steps decorated with the colorful saris the laundrymen, the dhobis, had spread out after washing them in the river. There were bathers and dhobis, beating their laundry on flat stones. Among the dhobis at the edge of the river were bathers and buffaloes. We marveled at these exotic scenes; we were in another world. On this first meeting with the Ganga and the bathers, we were not too conscious of the dirt or pollution. We were rather looking at the beauty of a lighted candle in its little saucer floating on the holy river
On our way back, it was actually I who took the photo below. As John says, it is our iconic photo of Varanasi. We even had it enlarged and framed and it is decorating a wall in our new downstairs bedroom.
We became very involved in Dr Tulsi's 's DISCC/DEVA organization and we still today have through them a most dear foster daughter, Sampa, who is now 21 years old and in her final year of studies at a very special institute in Hyderabad, one for young people with an artistic talent. It is one of India's top schools. Sampa has been with us for more than ten years and we are always invited to dinner by Vimlar at their home when we visit Varanasi. And a delicious dinner it is too! (Not too spicy, for us.) Vimla had become a widow shortly before we took over Sampa as our foster daughter.
In this designing and fashion college in Hyderabad, she uses her artistic talents to study design in various forms, dressing of shop windows and other things that require the use of a computer, a top-quality camera — and a lot of talent, which Sampa definitely hat.
Tulsi deals with mentally and physically handicapped children and he is doing a wonderful job. Our very good friend Jean-Max is the president of DEVA-Europe which organizes financial and moral support for DISCC India ("Deva International Society for Child Care"). Without Jean-Max, the DISCC would not be able to go on existing.
Since it is considered shameful in India, as in many other poor countries, to have a handicapped child, these children are very often hidden away, so as not to give an evil mark to the family. It is well known that far more handicapped children are born into families that are malnourished, and this adds to the problem of getting special care for these children. In India roughly half the population lives below the level of poverty, a fact which makes the problem of handicapped young people be of a tremendous magnitude. It is, after all, possible to help these unfortunate children to find a way to help them lead a livable life, and thus to help their families.
At the time when we very actively supported DEVA /DISCC, they r
an two schools, one of which was Gangotri School, where our dear friend Vimla and her assistant taught pre-school children, starting with the alphabet and the simplest form of reading, teaching colors, numbers and other rudimentary things.
And, possibly most wonderful of it all, they also have them dance and play.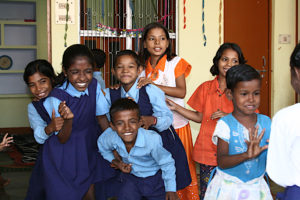 There was also a second "pre-school", Ambedkar, in a small village at some distance from Varanasi where somewhat older children were taught to read and write. However, there has been a complete reorganization of DISCC/DEVA and those two schools do not exist any more. We are assured that the children concerned
are now taken care of by communal schools. Vimla now teaches a group of very young children in an open-air school (photos taken by our Sampa) near where the Gangotri school once was and it seems to work very well
Teaching English
In 2008, I had the idea of teaching English to a group of DEVA personnel. I had carefully prepared a set of questions and answers of a basic kind. What they needed most, or so I thought, was to manage simple conversation. I had printed a good number of sheets of the sentences I was going to use and I had recorded the sound, by me of course, on a CD, which we made several copies of.
On the first day, there was a group of DEVA staff. Deepika, a friend and Tulsi's wife who is an English teacher was in the front of the room with me and on the blackboard she had written" SPOKEN ENGLISH WORKSHOP".
The Deva medical doctor, Sharma, was there, and he assisted me with the CD player. We first let the group hear what they would have a chance to listen to that would stay at DEVA and also at the other centers where there was a CD player.
Some of the participants were very shy, or had a very poor understanding of English. They always stood up when I called on them to answer my questions. If the process got to be slow and difficult, everybody in the group would laugh, in a good-matured and amused way. Sometimes they would give the answer that would not come forth from the person I had called on. But it was all in a very good and relaxed mood.
On the following day I met with a group of CEP workers. CEP stand for Children's Education Program, and these young people had a better level of English. It was a pure pleasure both days to get the "students" to answer my questions.
The next year I had also prepared questions and answers, but on a somewhat higher level (Do, doers, did). As I arrived at DEVA Center, I happened to meet with a man who had been in my group the year before. I asked him how his English was doing. He said Good, thanks to you. That's the kind of thing you never forget.
That second year, I remember we had a break in the middle of sessions that lasted for hours. My "students" gathered around me, talking and asking questions. It was wonderful to see how positive they were, now that they knew how relaxed a class with me could be.
My method of teaching basic English– as well as French by the way — has always been by questions and answers. The shift from "I" to "you" and from "you" to "I" is the first very basic thing the students must learn to master in a dialogue. For instance, I hand a book to a student, and I say "I am giving you a book. What am I doing?" Getting them to reply 'You are giving me a book." is quite a big step, more so than anyone could believe who has never taught or learned a foreign language. Of course this method of teaching still depends on some measure of previous knowledge of English. The second year it would be questions such as "Do you speak Hindi." — "Yes, I speak Hindi."Then another big jump forward and you can say "Ask me if I speak English." — The student says "Do tyou speak English?" That is already a wonderful beginning and the student will feel pleased with himself for managing this dialogue. She can cope and it gives her a feeling of accomplishment which is essential to learning.
Dev Deepavali
In 2010 we went to India as late as in November so as to be in Varanasi for the great Hindu festival of Dev Deepavali, which is celebrated with the most fabulous light and fire shows
We invited Tulsi, his wife Deepika, Sampa and her mother Vimla to come with us in a boat to admire the spectacular festivities of Deepavali along the ghats and most particularly at Dashashvamedh Ghat. It was chilly on the water during this long evening, and I had to lend Vimla and Sampa a pashmina and a sweater. I afterwards developed a bad cold myself which took me to a hospital and an excellent doctor in Jodhpur, Rajasthan, which was our first place to visit after Varanasi, before heading south through Rajasthan to more wonderful places.
John and I took oodles of pictures of course, and we also took a couple of videos which I made into Youtube videos later.
It was a fabulous event, and the entire town was participating in it. Looking at the masses of people on the ghats and in boats, you certainly got the feeling that everybody was out that evening.
After the boat ride, Tulsi invited us all to dinner at a restaurant close to where Vimla and Sampa live in an old maharaja's palace which has been converted into apartments. Altogether it was a wonderful evening which we all enjoyed.
Continued: Chapter 40 Part 2 — Incredible India